Re-downloading the Tinder app?
That's often people's first move when re-entering the dating scene. However, there are also so many new game-changing dating apps that are going completely unnoticed by users like you! And, each of these apps has a specifically targeted user base. That means that one of these newer apps may even be better for you as an individual.   
The 7 Game-Changing Dating Apps That You Should Know About
Do you have a beard? Is it important to you? Then maybe Tinder is the wrong approach. Bristlr is aimed at "connecting those with beards to those who want to stroke beards".
And, if you are a woman who happens to think beards are pretty sexy, then you might as well streamline your potential matches by switching over to a "bearded only" platform.
Bristlr has been facing increasing popularity. It has even been featured on Cosmopolitan, CNBC, Elle, and The Huffington Post.
Spex is a very new platform with a similar mission to Bristlr, only with glasses instead of beards! But before you go on thinking that this type of dating app is way too "niche", according to Spex, "50% of the population wear glasses!". So it looks like one out of every two people reading this post would fit in quite nicely in the Spex community.
And as a fellow glasses-wearer, I have to say that I think it's pretty cool that wearing glasses is finally sexy again!
If fitness plays a big role in your daily life, chances are high that you are looking for a partner who feels the same way. Well Sweatt allows you to do just that! Through this app, you can meet up with other gym/fitness/yoga/dance lovers. Because, according to Sweatt, "…great dates and great relationships start with strong, motivated, confident people."
I think they're onto something here.
Finally, a platform that allows men and women alike to be graded on their online behavior! With this app, users rate each other based on how they act. And when a user's grade drops to an 'F', the app will permanently "expel" them!
With a goal of getting rid of the "creeps", The Grade is a female-empowered platform that keeps online dating classy, safe , and clean.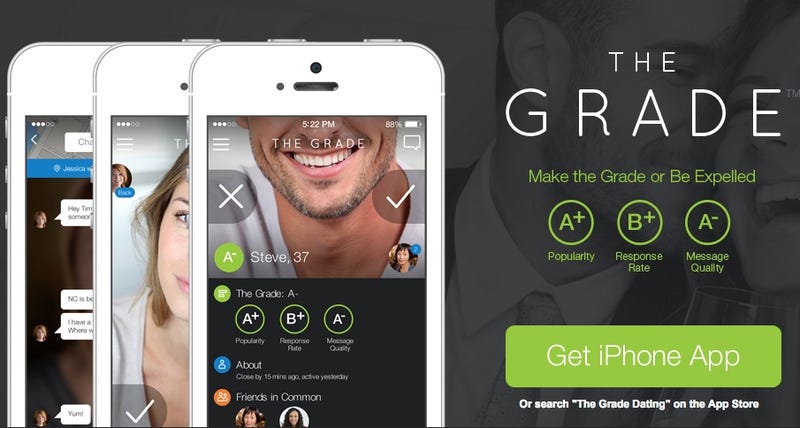 For all of you music lovers out there, Tastebuds is the place to be. It's a great platform for building deep connections based on your love for a specific type of music. Plus, your matches will even have the chance to introduce you more music. You are going to have a great time with this app!
A very forward-thinking new dating app, Happn reaches out into the real life dating world and finds a unique way to connect it with online interactions. Happn allows you to find and connect with the people that you have already crossed paths with. And, when you do cross paths with another member, their profile automatically shows up on your timeline!
If you're looking to meet someone without the Internet in today's day and age, it's not gonna happn…without happn. 😉
Not so new, but still worth a mention. Bumble puts the power into the hands of the women, by letting them message the guys first. The only catch? The women need to write something within 24 hours or the match is gone forever. Bumble also has a BFF mode for making platonic friends. I still use Bumble to find fun girlfriends to hang out with. 😉
So, the next time you want to "delete Tinder forever" and "give up on online dating completely", give one of these game-changing dating apps a try instead. It may just be the breath of fresh air you've been hoping for.
For more information on online dating platforms, make sure to check out my blog post on the subject.